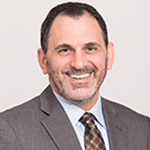 As the Chief Executive Officer of Premier Community HealthCare (Premier), it is my pleasure to welcome you on behalf of our Care Team and Board of Directors.
Premier delivers medical, dental and behavioral health services for every stage of life. For over 40 years we have been committed to meeting the needs of our surrounding communities and providing high-quality compassionate care through licensed and certified providers and caring support staff.
As a nationally recognized patient-centered medical home, we have a deep sense of pride and commitment to those who place trust in our services. Our focus is to deliver exceptional care that exceeds standards of quality and patient satisfaction.
It is an honor and privilege to be a part of this team. We invite you to visit our clinic locations to discover how our range or services can meet the health and wellness needs of you and your loved ones.
Sincerely,

Joseph D. Resnick, MHA, FACHE
Chief Executive Officer
To provide accessible healthcare services for all.
A community where everyone is healthy.
Our values represent shared beliefs and essential principles that guide our behavior, our patient services, and our decision making.
Teamwork: We collaborate within and outside the community health center to be our best.
Respect: We give respect to self and others to foster a positive environment.
Integrity: We adhere to ethical principles without compromising the truth.
Compassion:We show kindness, caring and a willingness to help others.
Excellence: We deliver world class service each day.